H
i
everyone, It's Tuesday again and I just love the MIDDLE of the week challenge! Personally, I had my craft sale on Sunday and wanted to let you know that about 20% of my supply went flying out the door and will soon be sent to all their loved ones! There's nothing more gratifying than to know the general public really appreciates the artwork I put into the greeting cards!
I
t's Top Tip Tuesday time to challenge all of you again with creating something with a "T". We brain stormed and came up with some great ideas like:
Tree,
Tire,
Triple - could be three of something,
Teenagers,
Tiger . . . well you get the idea!
H
owever, I decided to create something that didn't have the T inside the artwork but instead a "TAG"! This is my first tag ever so I hope you enjoy it! I'm going back to my more simple card projects for the next week or two, this one took a while! :)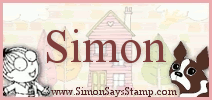 T

his tag was a very vintage based Shabby Chic type of project . . . and as you know. . . I don't do this often but I tried my hand at weaving paper, wax sealing form, my brand new distress tool and my first corner metal embellies from Tim Holtz. Since this year holds a lot of firsts for me, I couldn't wait to ink up this gorgeous Nellie Snellen image I just got in the mail. I think she is just the cutest in her little tutu while opening her pretty present with her bunny friend. . . it's perfect for the baby shower, birthday and Christmas gift too!
Tim Holtz idealolgy Paperstash Vintage Shabby DP
Vintage Attic treasures ` Envelopes & tag book by Melissa Frances
MEDIUMS:
Signo "white" pen
Ranger Distress ink: Faded jeans and Walnut Stain, Antique Linen
Copic: C00,C1,C3,C4
R20,RV34, RV00
B21,B23,B24
Gelly Roll "clear star
White Applique
EMBELLISHMENTS:
Ribbon by Paper Studios
The Paper Studios Pearls altered w/Copic R39
Metalic white pearl strings - Joanne fabrics
tulle from stash
Recollections Pearls
Doily from Restaurant
Wild Orchid flowers
Dress It Up Au Jardin & Nostalgic Treasures
Bo Bunny Petals Cream Gardenia altered w Tattered Angels Glimmer mist "Sapphire"
Recollections butterfly
Recollections floral Embellishments
Prima Roses
The Paper Studios ~ Spare Parts Lock and key brads
The Paper Studio Wax Sealing
Rope ribbon rolled from stash
Challenges entered:
Wild Orchid Crafts ~ Shabby Chic friendship
Creative Belli ~ "G" gift image
Inky Impressions ~ amazing lace
Color Me Creative ~ pleats
For Fun Challenge ~ Recipe
Crafty Creations ~ Let it shine
The Crafty Pad ~ soft pastels
Gingerloft ~ Bead it up
Quirky Crafts ~ Recipe (all but embossing and Acetate)
Stamps R Us ~ There was a little girl
7 Kids Challenge ~ fluffy (bunny) (7 kids sells Nestabilities)
Scrap Creations ~ Anything but a card
Everybody-Art-Challenge ~ Anything Goes, Distressing
Anything Goes ~ "D" Distress
Flourishes ~ Sketch
Pile in on ~ Circles
INSPIRATIONAL THOUGHT FOR THE DAY:
Keep in mind that neither success nor failure is ever final.
Roger Ward Babson