Good Morning,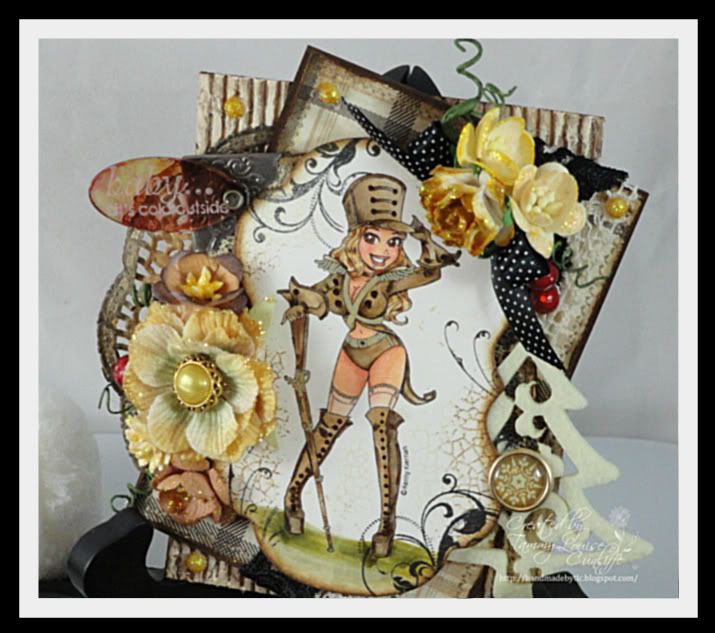 There are a few different things today, so I will get right to them. I have drawn a Winner of my Shape EZ personal Candy today . . . and the winner is,
Deonna from For the Love of Cardmaking
, Congratulations girl! Have a ton of fun with the goodies and thank you for all your support!
I wanted to post this for a great crafter friend Tabby from
Tabby Craft designs
, sometimes it's all about where to look when it comes to a great DEAL! This is the Holiday week too so . . . no better time for a sale right? She says this:
Hi my lovlies!
I posted yesterday about the
Brand New Stamps
that I have For Sale, and I want to say a massive massive thank you to everyone who have bought them so far :oD.......I still have tons left, and I really really want to get rid of them and get some space back in my beloved craft room..........So here comes the favour....if possible could
anyone that wants to
, spread the word on your blogs etc and let your lovely followers know that I have all these stamps for sale. I would be eternally gratefully to you all. I should have done this ages ago but I got a bit sentimental about it all.....I know what a silly moo, but better late than never, I suppose!
Thanks so much all.....you are all superstars :o)
Hugs Tab xxx
And, lastly,
Hello and welcome to
Day 6
of our
November Rubber Die Release Showcase
!
On Wednesday (16 November)
Whimsy Stamps
released this month's rubber designs and new shapeology dies. From then until 23 November the Whimsy Stamps DT and Special Guests are showcasing these fabulous new stamps and dies with a
daily mini blog hop
.
Each mini blog hop has a new release prize hidden somewhere along the way and you have
24hrs to enter each prize draw
.
To be entered into today's mini blog hop prize draw, be sure to
leave a comment on ALL of the DT's posts listed below by 12.00PM EST tomorrow
. All winners will be announced here on the
Whimsy Inspirations blog
after 12.00PM EST tomorrow (23 November).
To take a peek at today's fabulous new release creations, please click on the links below...
Remember that the entire new release is available to buy
right now
from the
Whimsy Stamps store
along with all your Whimsy favourites.
T
hanks for stopping by and don't forget to check back here tomorrow for more new release creations! So, I made my first ribbed cardboard project, not sure if it should be a tag or use it as the top of a card, I guess it will come to me eventually, till then, it was inspired by the fabulously talented
Kylie Kueter
from Kylie's Craft Room. I tried a few new thing on this too, I created a Sentiment ornament from Tim Holtz that I distressed then stamped on and applied it with a brad that enables it to swivel. And the corrigated board was distressed with crackle paing and Acrylic Paint. It was very simple and fun, everyone should try it at least once! Most important, have fun!
Toy Soldier stamp from Kenny K at Whimsy
Basic Grey "Little Black dress DP from the Whimsy store
Flourish stamp from Raindrop Echo at Whimsy
Winter letter seals stamp Sentiment from Raindrop Echo at Whimsy
Back ground stamp is from CE called "Crackeled"


Pentel Med White gel pen
Gelly Roll "Clear Star"
Ranger crackel paint Antique Linen and Vintage Photo
Copics E000,E00,E11,E13,R20,R30,E44,E42,E25,E57,E50
American Crafts Gold pen


Tim Holtz corners
Hemp Cord
Spare Parts button brads from The Paper Studios
Prima Ameruse Duchess mix flower
WOC flowers
Tim Holtz Adirondack ink Egg plant and cranberry Alcohol solution
Tim Holtz Ideaology Fragments
Griffen traditional brads
Yellow Stickles



INSPIRATIONAL THOUGHT FOR THE DAY:
Experience shows that success is due less to ability than to zeal. The winner is he who gives himself to his work, body and soul.
Sir Thomas Fowell Buxton
Stop by the Whimsy Stamps Store available today for my Shape EZ line of digital forms and shaped product lines like bags, boxes, flowers, and cards with tons of add on's that help you make the project just the way you like it. Over and Over again! The NEW Shape EZ Cut files available today!
Thank you for visiting,