If you're looking for some terrific Candy open till 11-20-11 click HERE
***************************************
H
ave you ever wondered how many projects CAN be made in one week? My answer is a max of 10 this week, I'm trying for 12 next week! I know what you're saying to yourself, self? Why would she make 12 projects in a week? Answer to self: Because I hate letting anyone down and refuse to say I can't. I have a really large craft sale coming up really soon in December too, and if you recall from a month ago, I sold such a hugs amount of inventory last sale that there wasn't very much left to sell and that's a no no! If you're going to set up and pay to be there, you better have something to sell!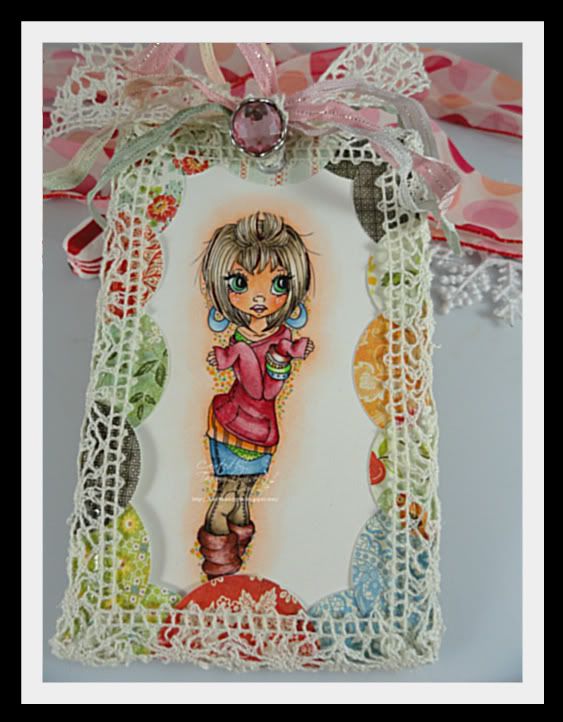 Challenges entered:
A
nyway, I digress! Today is Tuesday and I get to share my Top Tip Tuesday challenge project and we want you to show us a project with either a tag or an actual tag! Also, please don't forget to stop by the DT blogs and leave them some love.
O
ur Sponsors this week are :
Pink Cat Studio
are offering one lucky winner 5 digis of their choice.
Pink Cat Studio
is all about offering fun and whimsical stamps to inspire your creativity. They have a huge selection of super cute digi and rubber stamps to choose from and they add more each week. Owner and artist Melissa started PCS in 2005 and over the years nothing has excited and inspired her more than to see your creations with her stamps. Melissa's goal is to continue to delight & surprise you with her designs. Stop by the studio today and get in on the fun!
O
n to the details of my Tag!
Cryogen white stock paper
Picadilly DP from Basic Grey
Image is Saturated Canary by Katie Smith
MEDIUMS:
Copics
Ranger Distress Ink
LeBouton Sil/Pink Stone
Ribbon from my friend Ann Vento (thank you dear Ann)
Ribbon from India from Creative Papers Online
I covered the back of the colored image with DP then taped down the second circle tabs
INSPIRATIONAL THOUGHT FOR THE DAY:
Goals should always be made to a point that will make us reach and strain.
Spencer W. Kimball
S
top by the Whimsy Stamps Store available today for my Shape EZ line of digital forms and shaped product lines like bags, boxes, flowers, and cards with tons of add on's that help you make the project just the way you like it. Over and Over again! The NEW Shape EZ Cut files available today!
Thank you for visiting,