*******************
CANDY!!!!
Want to Win part of this release, click
here
to join my candy
!
*******************
You don't want to miss this
Whimsy Stamps rubber stamp, Shape EZ Templates and die RELEASE DAY
!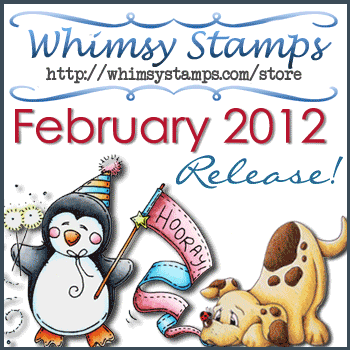 There are
19 fantastic new rubber stamp, 2 new Shapeology SVG Cut Templatess and 5 wonderful new Shapeology dies today! These new goodies are available to buy right now from the
Whimsy Stamps store
along with all your Whimsy favourites.
There are 7 days from today, that's the 27th of February, where the Whimsy DT and Special Guests will be showcasing these fabulous new stamps and dies with a daily mini blog hop. Each mini blog hop has a new release prize hidden somewhere along the way and you will have 24hrs to enter each prize draw by leaving a comment on every blog listed for that day.
*********************
Don't forget there is a new release recap day for every month of new releases you won't want to miss also by visiting the Whimsy Stamps Blog!
******************************
To be entered into today's mini blog hop prize draw, be sure to
leave a comment on ALL of the DT posts listed here
Here is a full list of the wonderful February release:
3 Crissy Armstrong rubber stamps
Bud ~ Gus The Bunny ~ Little Playmates
4 Kenny K rubber stamps
Helga Frost ~ Da Bomb ~ Elena K ~ Ryder Cole
3 Meljen's Designs rubber stamps
Party Time Cat ~ Dragon's Little Friend ~ Party Penguin
3 Wee Stamps rubber stamps
Dandelion Girl ~ Easter Bunny ~ Sympathy Bugs
6 Raindrop Echo Designs rubber stamp sets
Fanciful Birthday Notables 1
(coordinating die available)
~ I Heart You Tabs 2
(coordinating die available)
~ Love Postage Stamps
(coordinating die available)
~ Notebook Page background ~ Thanks a Bunch Notables 2
(coordinating die available)
~ Vintage Travel Postage Stamps
(coordinating die available)
4 Raindrop Echo Designs Shapeology dies
Corner Dies Set ~ Lamp Post ~ Notebook Spiral ~ Tabs 2
My first in a line of Tags coming soon to Whimsy Stamps Store of my own design and I hope you love them as much as I do!
TLC Shapeology die
Heart Tag
Shape EZ by TLC
Flip Cupcake 1 ~ Triple Heart Gift Box Card
Be sure to find the February Whimsy Stamps Magazine for samples of these cut files!
Don't forget to visit today's DT and leave a comment on their blog posts to be entered into the draw to win a new release stamp, then pop back
here
tomorrow for the next list of showcase posts!
Thanks for stopping by and I hope you enjoy our new release!
Let's celebrate together the Easter Holiday!
Image is Bud by Crissy Armstrong
Bazzill Basics "French Garden"
Pencils and Gamsol
Ribbon from stash
Stickles
Brass Eyelets by American Crafts
The real voyage of discovery consists not in making new landscapes but in having neweyes.
Marcel Proust
Stop by the Whimsy Stamps Store available today for my Shape EZ line of digital forms and shaped product lines like bags, boxes, flowers, and cards with tons of add on's that help you make the project just the way you like it. Over and Over again! The NEW
Shape EZ Cu
t files available today!
Thank you for visiting,