Catch my Magnolia Birthday Celebration Candy Here!
Whimsy Release Post Here!
*****************************************
T
his is such a fantastic day for me! Krista Smith the creator of one of my favorite digital stamps call
Saturated Canary
(as if you didn't already know) asked all of us to recommend some new graphic ideas and the winners would be given the graphic free of charge! So little'ol me decided to suggest that a Hawaiin girl would be just the ticket. There aren't a lot of that graphic around and I simply adore making projects for summer time and my consumers love them at the craft sales too!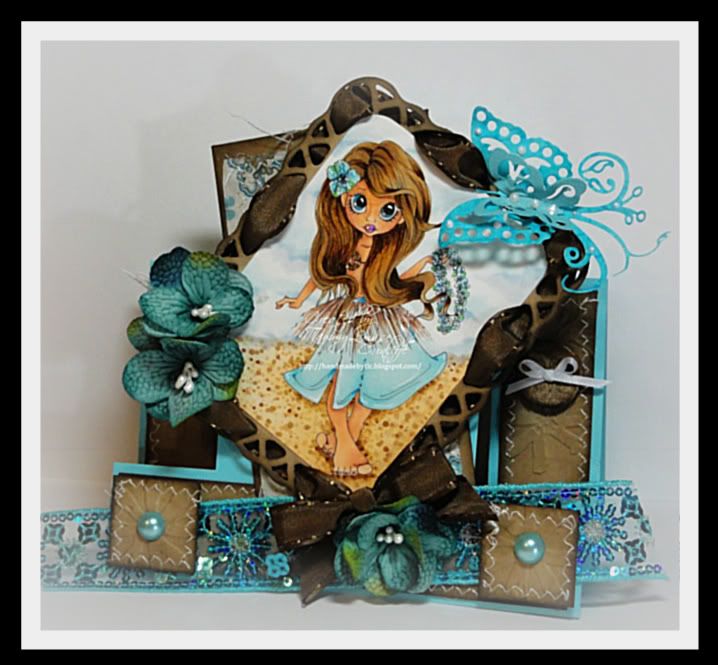 A
nyway, to make a long story short, I can home Monday and received an email from Krista notifying me that my suggestion was accepted and the graphic was attached! OOOHH! I adore her! Thank you so much Krista, you're the best!
Love to Create
- Anything Goes
Make it Monday
- Anything Goes
Cardmaking Mamas -
Buttons
S
o today there is a little hop of sorts in which leaving a message here will get you the stamp that I recommended. So if you love her, leave me a message for the chance to win her! You have till Sunday March 25th to join in. Don't forget there is Magnolia Candy up top too! The entry number will be chosen my Random.org and Krista will be awarding the graphics.!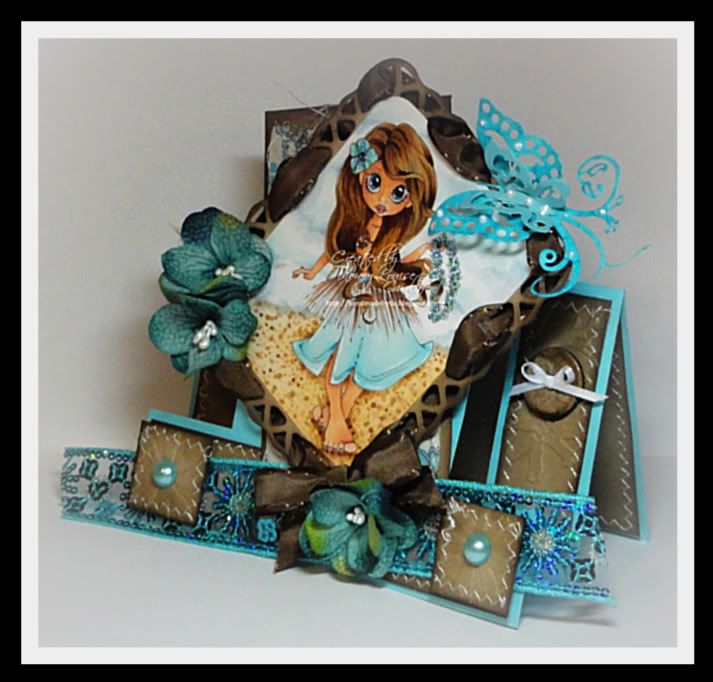 INGREDIENTS:
Image is "Ani" Saturated Canary
Color Bok "Warm Earth tones" collection
Bazzill Basics "Atlantic"
Cotton fabric from walmart
Kraft sheets from Bazzill
Stylized Flower Embossing folder
Elegant Butterfly Shapeology Die w/Whimsy


Copics
Ranger Distress Ink Walnut Stain


Offray sequin and beaded trim "Turquois"
Offray Saddle Brown ribbon
Paper Studios Gem stones
Flowers from Joanne Fabrics
Modern Romance Stamen
Tulip Beads in a Bottle White


INSPIRATIONAL THOUGHT FOR THE DAY:
Never tell people how to do things. Tell them what to do and they will surprise you with their ingenuity.
General George Smith Patton, Jr.
I
f you enjoy a good 3D project or just need a special box or bag, stop by the Whimsy Stamps Store available today for my Shape "EZ" product line of Cut templates like bags, boxes, flowers, and cards with tons of add on's! These templates can help you make any project just the way you like it. Over and Over again! The NEW Shape "EZ" cut files are available today!
Thank you for visiting,