**************
Last Chance for my Die Candy here
**************
T
oday the
Whimsy Inspirations
blog is sharing some extra makes from the May Whimsy stamps release and this one is no exception! I'm usually a ALL copics girl but I have found that I adore the water color of painting with Ranger Distress Inks.
I
have some terrific water color paper by Strathmore Windpower 140lb 300 g/m that has always given me a very satisfying outcome and it is always
extremely
forgiving as well. I'm just a beginner with distress water color, so forgive me if today's little ditty has a few errors that I've "sorta" hidden ! But all in all, I was pleased. The bag took less than an hour after painting for about 45 minutes so the entire project is less than 2 hours! I've made this for the perfect little shower gift bag and I adore the paper with the cute little safety pins.
Challenge entered: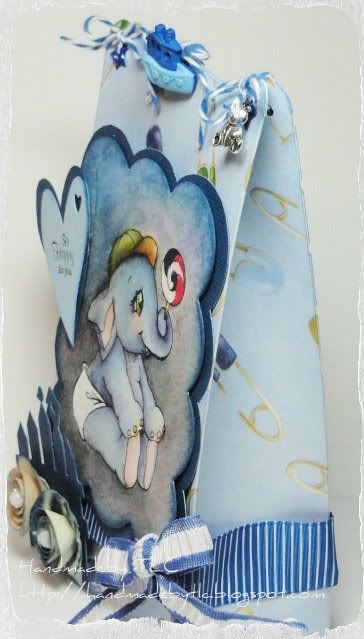 MEDIUMS:
Water Paint with Ranger Distress Ink
Faded Jeans - outer scalloped edge
Tattered Rose - cheeks, feet, inner ear
Black Soot - outside and under elephant shading
Pumice Stone - further outer edge of elephant
Peeled Paint - Hat and eye
Brushed Corduroy - hat and stick
Chipped Sapphire - light shade inside elephant
Stormy Sky - dark shade inside elephant
Victorian Velvet - from wash cloth
EMBELLISHMENTS:
The Twinery "Denim"
Dress It Up "Things that go zoom"
Teddy Bear charm from Whimsy Stamps Store
American Crafts Sapphire Ribbon "marine" from Archivers
Smooch Nautical Navy,illuminate, pink
INSPIRATIONAL THOUGHT FOR THE DAY
Crying doesn't indicate you're weak. Since birth, it has always been a sign that you are, in fact, alive.
- Unknown
If you enjoy a good 3D project or just need a special box or bag, stop by the Whimsy Stamps Store available today for my Shape "EZ" product line of Cut templates like bags, boxes, flowers, and cards with tons of add on's! These templates can help you make any project just the way you like it. Over and Over again! The NEW
Shape "EZ
" cut files are available today!
Thank you for visiting,