Here's the Candy Available to win for the Month of April!
Want to play with it?
Just enter the Mr. Linky,
Follow my blog,
Simple as that, I'll draw the winner on the 15th of May so good luck and have fun crafting!
Welcome to the Whimsy Stamps April 2013 rubber stamp and die release

BLOG HOP!
Today,
Whimsy Stamps
has released some brand new Rubber Stamps & Stamp Sets, Whimsy Shapeology Dies, Shape EZ by TLC templates and Whimsy Designer Paper 6x6 packs. These new goodies are available to buy right now from the
Whimsy Stamps store
along with all your Whimsy favourites.
You may have noticed that we have changed our rubber release schedule this month. We are now hosting a
3-day new release event
where we have a
Sneak Peek Blog Hop
on the day before the release (yesterday), a
Release Day Blog Hop
on release day (today), and finally a
Review Day Blog Hop
the day after the release (tomorrow).
Each blog hop has a
prize of 2 new release stamps
hidden somewhere along the way and you have 24hrs to enter each prize draw.
Today we are excited to share sneak peeks of some of the brand new
Crissy Armstrong, Elisabeth Bell, Meljens Designs
and
2 Cute Ink
stamps that are available to buy from the
Whimsy Stamps store
!
To be entered into today's blog hop prize draw, be sure to
leave a comment on ALL of the DT posts listed below by 12.00PM EST tomorrow
. All winners will be announced on the
Whimsy blog
on Friday (26 April).
To take a peek at today's fabulous new release creations, please click on the links below...
If you would like to join Whimsy Stamps as our
Guest Designer for our June 2013 release
please go to the
Guest Designer Contest page
to read all about how to enter. Entries close at 12.00pm (EST) on Wednesday 30 April 2013.
Finally, here is a full reveal of the wonderful April release. Don't forget to visit today's DT and leave a comment on their blog posts!
[Please note that the following pictures are not to scale]
4 Crissy Armstrong rubber stamps
I'll Protect You
~
Liberty's Friend
~
Tuffy's Gift
~
What a Loot!
4 Elisabeth Bell rubber stamps
Sailor Bay's Sandcastle
~
Skipper and Bobbin
~
Lemon Pepper's Beach Bucket
~
L'il Jack and Bobbin Seaside Dreamin'
4 Kenny K rubber stamps
Baseball
~
Batter
~
Hot Doctor
~
Hot Fuzz
2 Meljen's Designs rubber stamps
Rag Rabbit's Trinkets
~
Little Baby Dragon
2 Wee Stamps rubber stamps
Flower Fairies
~
Rosetta
3 2CuteInk Rubber stamp sets
Crafty Cats
~
Little BIrdie Told Me
~
Sweet Froggies
4 Momas Collection rubber stamp sets
Buld a Rose Bush
~
Finally Spring
~
Lovely Orchids
~
Vibrant Violets
4 Raindrop Echo Designs rubber stamp sets
Birthday Greetings
~
Fairy Fantasy Circle Postmarks
~
Mini Backgrounds
~
Retro Letter Seals
5 Shapeology dies
Fairy Silhouette
~
Fancy Circle
~
Retro TV
~
Viney Fence Border
~
Wave Border
6x6 Paper Stacks
Back 2 Basics
~
Funky Flowers
24 sheets per pack - 12 designs, 2 of each printed on heavy weight slightly textured papers.
Acid and Lignin free.
3 Shape EZ by TLC templates
Diaper Card
~
Flip Banana Card
~
TV Card
- - - - - - - - - - - - - - - - - - - - - - - - - - - - - - - - - - - - - - - - - - - - - - - -

Whimsy Inspirations Magazine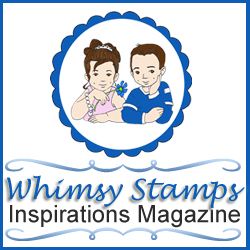 The new
Whimsy Inspirations Magazine - April 2013 Issue 12
will be soon! It features never-before-seen creations from our wonderful Magazine Staff as well as many stunning creations by the Whimsy DT, Special Guests and Friends of Whimsy. So grab a cup of your favourite beverage while you're settling in to read up!
Visit the
Whimsy Stamps store
to pre-order/purchase print copies of the current and selected past issues of the Whimsy Inspirations Magazine.
- - - - - - - - - - - - - - - - - - - - - - - - - - - - - - - - - - - - - - - - - - - - - - - -
Thanks so much for stopping by and I hope you enjoy our new release!
If you enjoy a good 3D project or just need a special box or bag, stop by the Whimsy Stamps Store available today for my Shape "EZ" product line of Cut templates like bags, boxes, flowers, and cards with tons of add on's! These templates can help you make any project just the way you like it. Over and Over again! The NEW Shape "EZ" cut files are available today!
Thank you for visiting,