T
his has been a great week, thanks for joining me again and . . . Hi to all my friends and family!
I
was inspired the other day by a template creation so I though it would be the perfect occasion to practice with some new embellishments and get extra creative!
S
o I started from scratch and drew up an ice cream cone and the ice cream scoop also, put them together, outlined the template on bazzill stock, cut straight line across the top, flipped the scoop and traced it again. The base was done and the rest is just 1/8 inward the whole way. Took some photos along the way for later reference. I thought the image withing the round circle on the top was like the cherry and the lace was like the whipped cream! I even added a tear drop charm to symbolize a drip of ice cream like the adorable image used here.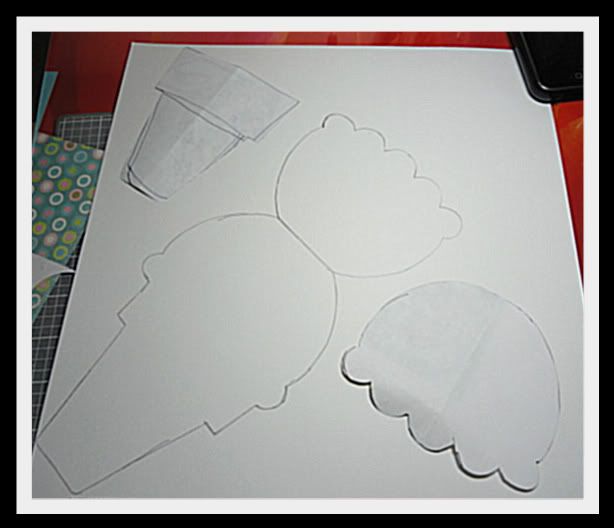 T
his week at
Wags 'n whiskers
challenge is your opportunity to show me all your
Birthday
creations! Our Hostess this week is the lovely and talented Darlene from Dar's Crafty Creations, be sure and visit her blog
here.
.
O
n to the details of my newest piece of greeting art.
INGREDIENTS:
Wags 'n Whiskers image "
Summer Treat
"
Sentiment by
Raindrop Echo Design
w/ Whimsy
Bazzill Stock "Avalanche"
Hand made stencil
Penny Lane "Moving Dots" DP
Core'dinations stock
S.e.i. "Patchwork Stitches DP
"Walk in my garden" Cricut Cartridge for flower

RV0000,RV00,R20,R29
C1,C2,C4,E00,E11,E41,E42,E43,E19,E50,
G07,BG05,YG05,BG05
Signo White pen ink
Distress Ink: Walnut Stain, Wild Honey,Black Soot,
Tumbled Glass, Spun Sugar, Worn Lipstick, Fired Brick
Micron Archival ink black
Sharpie "black:
Best Occasions Rhinestones
Grosgrain bow stickers
The Paper Studio Pearls
EMBELLISHMENTS:
Red Pearl Tulip Beads in a bottle
Bo Bunny Jewels
Charm by Cousin "Trinkets"
ribbon strings from stash
C
ome stop by for both inspiration and a challenge, I would love you to visit and enter your projects!
Challenges entered:
Scrap Creations ~ Summertime
Bling It On ~ Anything Goes
Anything Goes ~ D for Dangle and dots
Craft Your Passion ~ Anything Goes
Fancy Framework ~ Birthday
Penny's Paper Crafty ~ Birthday
Getting Cricky ~ Summertime
The Hot Spot ~ Floriday (the Ice cream stop)
INSPIRATIONAL THOUGHT FOR THE DAY:

The victory of success is half won when one gains the habit of work.
Sarah Knowles Bolton


Thank you for visiting,