W
ell today is my last chance to inspire as a part of the Little Darlings Challenge as a Guest Designer. I've tried very hard to do my best to do these romantic and
genuinely
lovely stamps justice. I want to thank them for the opportunity and wish them only the best on their journey! I hope they know how
thrilled and honored I am to have been able to share the images and designs with all of my wonderful followers and I hope to see you all join in on the
Little Darling Challenge
blog.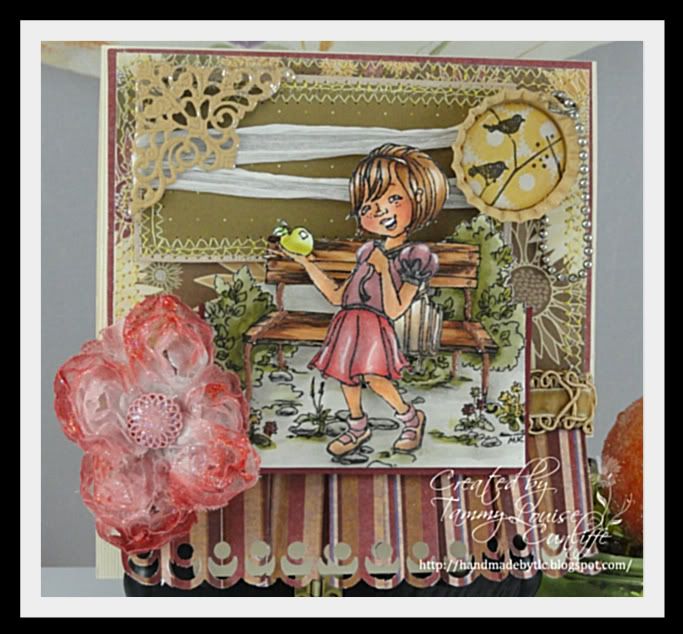 T
his time I wanted to find a way of adding pleats and ruffles that was out of the ordinary so I googled "Pleats challenge" and found my inspiration to fit the challenge there. I used one of my new "Bottle cap design" sentiments today as well as the "An Apple a Day" image from the new "Back to School" collection found only at the
Love to Stamp
Store where you can get the latest paper, including some brand new Holiday collections just in, classic ribbon, flower/border dies and much, much more for
very
affordable prices!
Little Darling Challenge 6
The challenge this time is
"Pleats and Ruffles".
Here's some of the things you need to know about this fun and rewarding challenge:
You don't have to use Little Darlings images, but if you do, you could win a $20 merchandise gift voucher to the Love to Stamp store. If you use any other stamp you could win a $10 merchandise gift voucher.
Great Prizes! So I hope you all join me! You have two weeks to enter so there is plenty of time to play!
I
made the Pleated skirt by accordion folding my striped paper then punching the cute scallop out of the bottom. I mounted it onto the velour ribbon and stretched it onto the bottom of the cut short card.
T
hrilled for my newest little find ~ the bottle cap and insert. (I learned the technique from the make-n-take this weekend.
I decided to punch a whole in the cap after distressing it, jump ring and chain later and I have a keepsake card for anyone!
T
hen I found the "must have" element of the card which is the "Park bench for two" scene from
Make it Crafty
that added the feel I was looking for: that this "ready for the day" image was well on her way to school in her own stylish way with an apple for the teacher and her favorite little skirt and blouse!
S

o, visit the Little Darlings Challenge blog, get inspired by the talented Design Team, join in on the contest and stop over at the Love to Stamp Store and get great deals on the best craft products! I'll see you there!
Little Darling Back to School image called "An Apple a Day"
Sentiment by Raindrop Echo Design for Whimsy New "Retro Bottle Cap"
Park Bench by Make it crafty
Paper Pizzazz DP called Burgandy Border
Color Box Sepia Script DP
Color Bok Harvest Flower by Heidi grace designs
Martha Stewart "Optic Dot" punch
Bazzill Basics stock
Copics include: Grass:YG91,95,97,Stone: W1,3,5, skirt and flowers/cheeks R20,R39,R22, RV34, Skin: E0000,E00,E13, Hair:E50,44,37,42, flowers: Y21,Y26, G20 for the apple
Singo white pen
Gelly Roll "clear star"
Ranger Distress ink: Walnut Stain,Worn Lipstick, Black Soot, Victorian Velvet, Tea Dye, Antique Linen, Crushed Olive
Ranger Distress Crackle medium : Antique Linen
EK Success embossing powder "Copper"
She is so ready to learn!
Suede Ribbon from Joanne Fabrics
WOC filigree silver corner altered with crackle
bottle cap from make n take at Archivers (no record of stamp name)
Ruffled flower from Joanne Fabric Bride section altered with Ranger Victorian Velvet distress ink
Button from Dress It Up " AU Jardin" collection
Bella Corda Premium raffia
double Sewn stitching
die cut doily altered with distress ink from stash for sentiment
It appears to be a flowing skirt full of fancy pleats on the bottom (hard to photo)
INSPIRATIONAL THOUGHT FOR THE DAY:
We are not the sum of what we have but the totality of what we might have.
The love sentiment is for those we send off for their growth in education!
Thank you for visiting,