I

entirely got so distracted with the Holiday and the 16 person reunion typed Holiday Vacation to Florida, I've forgotten that there is a Tuesday this week! I regret not posting earlier, however, I don't regret the time I've been enjoying with my family! This Post is to make sure you all are kept up on the happenings over at Top Tip Tuesday this week and to show off some of the gifts that I've given this week to some very special family members. The artist is my hubby and the ingredients are a little random. Having no craft supplies to speak of and no table is very difficult but where there is a will there is usually a way! I hope you enjoy them and play along with our challenge:
This is BB Houghton the III (made for my mom, sketch by my hubby)
For my Sister in Law (sketch by my hubby)
My nephew is red haired and loos not quite this enlongated but really close
This is exactly how my neice looks!
Well, the candles were both tear jerkers this year, and very popular at the craft sales for preorders as well! This can be done with any photo or sketch with tissue paper and a heat tool. I've gotten loads of requests for a tutorial too so keep an eye out for that as well!
Doesn't have to be christmas inspired - just anything at all!
Pink Gem Designs
4 digi images of winners choice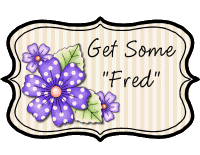 Fred She Said Designs offers a wide variety of digital products with a floral flair and cute characters too - Digi's, Pre-coloured images, Papers, Sets, and Fred's Flower Kits. Have some fun with Fred!
INSPIRATIONAL THOUGHT FOR THE DAY:
I wish you all the joy that you can wish.
William Shakespeare (Merchant of Venice)
Stop by the Whimsy Stamps Store available today for my Shape EZ line of digital forms and shaped product lines like bags, boxes, flowers, and cards with tons of add on's that help you make the project just the way you like it. Over and Over again! The NEW Shape EZ Cut files available today!
Thank you for visiting