I
'm so glad to be able to share with you a terrific new
Shape EZ
by TLC cut file product line at Whimsy Stamps Store. There is a terrific "
Take Out Box
" cut file that will allow you to create a simple and adorable gift box like the one below. I've coupled the box with two other cut files also available that is the "Magnolia flower" and the Pedestal Tag #1". You can use a cutting machine with the SVG file, or you can put your favorite DP into your printer and cut this out yourself from the 300dpi JPEG, PNG or PDF file that comes along with the cut file.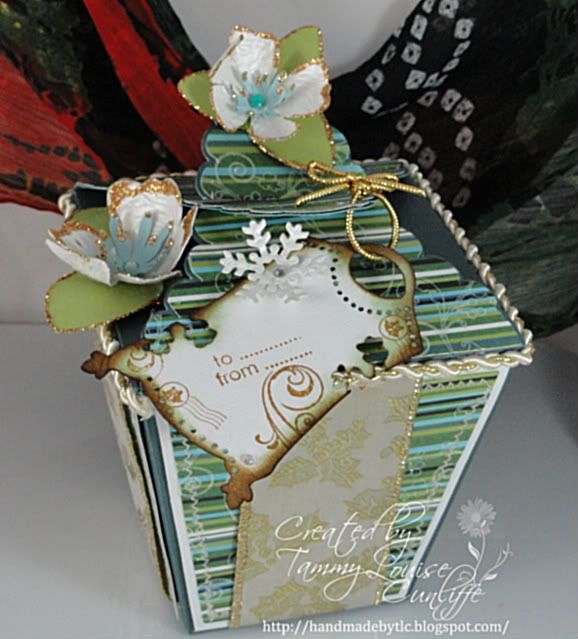 W
hat's different about this box? Not only do you get the box, but there is a base and DP layer you can cut, if you like, that will automatically fit perfectly inside each side and even the lid! Also, there is a window in the shape of a Magnolia flower that you can choose to add or delete and a frame to encompass the window. So the options are limitless and the choice is up to you! Simple or as complicated as you like every time as often as you like!
Shape EZ Magnolia flower by TLC w/Whimsy
Shape EZ Pedestal Tag #1 by TLC w/Whimsy
Winter Letter Seals Sentiment by Raindrop Echo Designs for Whimsy
Raindrop Echo Designs Flourish stamps w Whimsy
Holiday Postage Stamp from Raindrop Echo Designs w/ Whimsy
Ribbon is Trim a Home Golden Elegance
Celebrate It Holiday Ribbon twist
Stop by the Whimsy Stamps Store available today for my Shape EZ line of digital forms and shaped product lines like bags, boxes, flowers, and cards with tons of add on's that help you make the project just the way you like it. Over and Over again! The NEW Shape EZ Cut files available today!
Thank you for visiting,