Looking for some Whimsy Shapeology Candy? My post here
*****
It's the Whimsy June Release Review Day today! The rubber design team has shown some innovative and inspiring projects during the release and over at the blog today there are some additional ones to show you. The release was fabulous including rubber designs from
Crissy Armstrong,
Elizabeth Bell
,
Sylvia Zet (Wee)
,
Raindrop Echo
,
Meljen
,
Kenny K
. Several new
Shapeology dies
and a
Shape EZ
template too! All of which are available today in the
Whimsy Stamps Store
.
****
Whimsy Stamps Inspirations Magazine: Tips & Tutorials, Volume I -


For this issue, we have gathered some of our favorite tutorials from previous online publications and packed them into an exciting 86-page bound book. We will guide you through how to color using various mediums (Copics, Tim Holtz® Distress Inks, colored pencils, etc.), how to create unique embellishments for your creations (flowers, trinket pins, stamped charms, etc.), and how to create fancy cards (book cards, criss cross cards, flip cards, etc.) that will be sure to impress all your family and friends. Grab up this issue and and let your creativity flow!
****
T
he Whimsy Stamps
very first
paper issue of the Inspirations magazine is out in print and you are able to order it now in the store. It is sure to be a hot spot for great coloring techniques, creating of embellishments and more. The FREE online mini version comes out at the end of July.
O
n to my project today! Happy Independence Day to everyone! My family, not unlike most of you, have felt loss and triumph along with the pros and cons each and every time the fight for our independence has occurred. I don't want to debate or try to justify anything or anyone else's opinions as this is usually a heated issue! I do, however, want to say I applaud and give my sincerest well wishes to every family and friend that has OR knows anyone who has served! So . . . "WITH GRATITUDE";
A Special New Holiday release with Shape EZ
S
o . . . the template I used today is called "Spangled Star Card", and the "Spangled Flower". Spangled Star card is new and available today only at Whimsy Stamps Store in the Shape EZ section. The Spangled Flower will be release later this month. The files are all 300 dpi and come in JPEG,PNG,PDF and SVG formats. This template has some really special cuts, the base and insert dp of course but then the dark blue hole filled cut for another layer of dp too. Also, the smaller star can be used separately in any of you favorite designs as embellishments. The choices are endless! Now, can you invision this as a Christmas project? Or even a new born sweet baby blue or pink newborn card? Me too so don't miss the July Whimsy magazine because I think there may be some samples in there!!! hint hint!
For sale here at Pinterest
Shape EZ template "Spangled Star card" by TLC w/Whimsy Stamps
Shape EZ template "Spangled Flower" by TLC w/Whimsy Stamps
DP is The Paper Studio - God Bless America, Jen Wilson's 29th Street Market by MME
MME The Merry Christmas Days dp and the Paper Studio Patriotic collage, StarStripes and country crackle dp
Vintage Travel Postage Stamps (the cancel marks on the die cuts)
Lavish Flourish stamp by Raindrop Echo Designs w/Whimsy,
Thank You Tabs 1 Sentiment Stamp by Raindrop Echo Designs w/Whimsy
Notables 2, postage stamp mini and large, circle pennants and Vines Shapeology Die w/Whimsy Stamps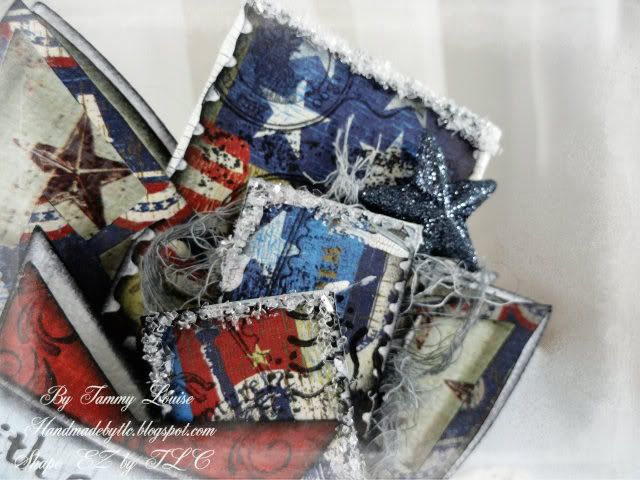 Three different postage die cuts from the DP stacked onto some distress gauze and glittered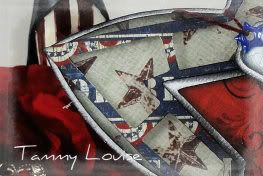 This photo attempts to show the layered cut out included in the template
MEDIUMS:
Momento Ink
Tim Holtz Ranger Distress Ink - Black Soot
Ranger Distress crackle paint - Picket Fence
This is the Spangles star flower with three Whimsy Shapeology circle pennants die set inside
EMBELLISHMENTS:
Basic Grey Wooden Button
Flora craft Diamond Dust Twinklets
Gauze altered with Black Soot Ranger Distress Ink
Dress It Up football button
Prism Craft thread
Star eyelets from stash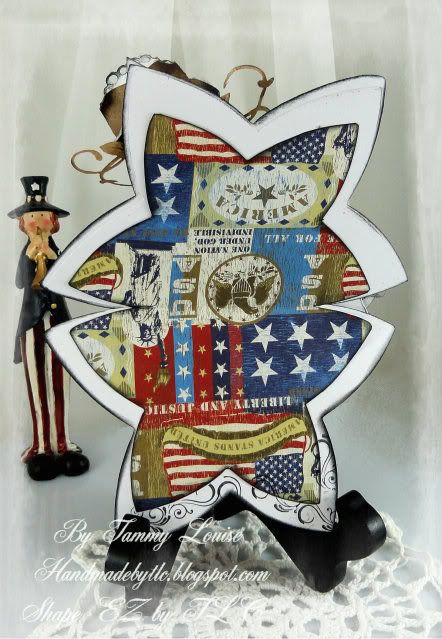 The base file was reprinted on DP in a smaller size for the inside decoration of this card
INSPIRATIONAL THOUGHT FOR THE DAY:
How good is sight without vision?
- Unknown
covered in flourish stamps, glitter, buttons and string, the best of all is the "with gratitude" sentiment!
If you enjoy a good 3D project or just need a special box or bag, stop by the Whimsy Stamps Store available today for my Shape "EZ" product line of Cut templates like bags, boxes, flowers, and cards with tons of add on's! These templates can help you make any project just the way you like it. Over and Over again! The NEW Shape "EZ" cut files are available today!