My Candy from this release here!
On August 22nd,
Whimsy Stamps held their August rubber stamp and die RELEASE!
These new goodies are available to buy right now from the Whimsy Stamps store along with all your Whimsy favorites.
Until 28 August the Whimsy DT and Special Guests will be showcasing these new products with a daily mini blog hop. Each mini blog hop has a new release prize hidden somewhere along the way and you have

24hrs to enter each prize draw

by leaving a comment on every blog listed for that day.
At the end of release week (Wednesday 29 August) we will post a Release Round-Up on the Whimsy blog. This will include a selection of DT work from the new release week together with a complete list of winners from the daily mini blog hops.
Challenges entered:
Crafty Catz weekly
.....ribbon and bows
Made for markers
.....anything goes
Sweet Stampin
.....out of the frame
So, I guess I shouldn't make you wait any longer! Boy, I sure hope you get inspiration from it! The Shape EZ template is so special because it opens up twice! Yep, the front flap opens up vertically from left to right, then the entire card shape opens up again Horizontally from bottom to top! This leaves layers of room for embellishments and color and added texture too! The Shapeology Spangled star die was perfect as a backdrop for this little guy with stars on his hat and with some pearls to embellish his face, he fits perfect with the fabulous new Apple Cider paper collection from Bo Bunny! This template can be extremely simple to make a well because you don't have to use all of the sections when you assemble it! However, I'm an eclectic designer and this gave me the perfect opportunity to use ribbon, flowers, dies, pearls, colors, images and sentiments along with jewels too! Just my style! tehe
Shape EZ "
Wicket Hat
" card template by TLC w/Whimsy
DP is The Paper Studio "Bella Bohemia" and Bo Bunny "Apple Cider"
This is the first layer open to reveal the Hoo Sentiment from Raindrop Echo w/Whimsy


Ranger Antique Linen Crackle Paint and Clear Rock Candy Crackle Paint
Ranger Vintage Photo Distress Ink
Copice are E50,51,53,55,57, YR00,24,18, YG0000,00,03
Ranger Vintage Photo stain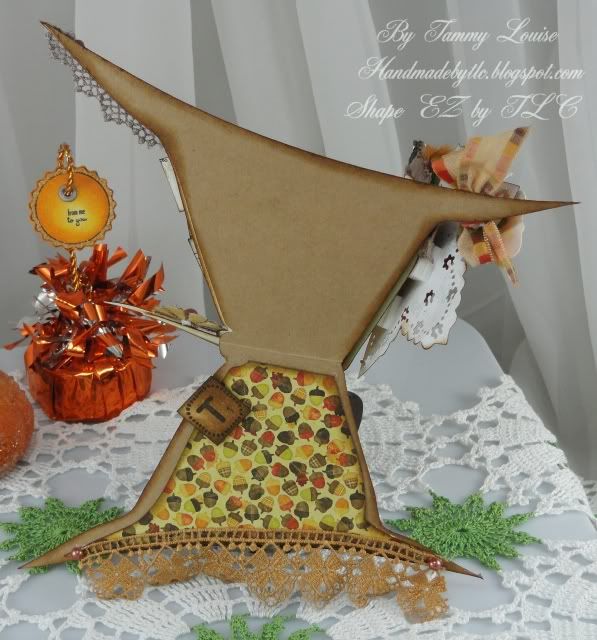 Then the second layer opens to reveal the "T" in HOOT! Love that ribbon on the bottom of this layer too, it added the fringe to the hat perfectly!
Stampendous frantage Silver Cracked glass glitter
Prima Say It In Pearls
Kaiser craft paperblooms coconut
Kaiser craft pearls
Ribbon is Offray
Bead Landing head pins by Michaels
Bead -stash
Branch sticker is Jolee's
square doily - best craft sharer Stephanie! Thanks hun
MIC chipboard - oriental bird
Tim Holtz trim - altered w/Ranger Vintage Photo stain
Spare Parts - Paper Ink Studio - feathers
The Paper Studios flowers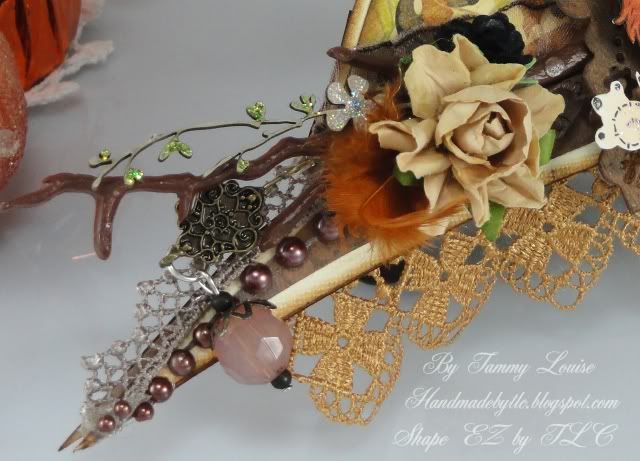 This is one of the extra embellishments from the template decorated up
INSPIRATIONAL THOUGHT FOR THE DAY:
An individual's self-concept is the core of his personality. It affects every aspect of human behavior: the ability to learn, the capacity to grow and change. A strong, positive self-image is the best possible preparation for success in life. - Dr Joyce Brothers
Thank you for visiting,