Welcome to the
Whimsy Stamps September 2012 rubber stamp and die RELEASE (Holiday Collection Part 1)!
Today,
Whimsy Stamps
is releasing 22 wonderful new rubber stamps & stamp sets, 5 fabulous new Shapeology dies, 2 gorgeous new Shape EZ templates and 2 stunning *BRAND NEW* 6x6 paper packs. These new goodies are available to buy right now from the
Whimsy Stamps store
along with all your Whimsy favorites.
From today until 25 September the Whimsy DT and Special Guests will be showcasing these new products with a
daily mini blog hop
. Each mini blog hop has a new release prize hidden somewhere along the way and you have
24hrs to enter each prize draw
by leaving a comment on every blog listed for that day.
At the end of release week (Wednesday 26 September) we will post a Release Round-Up on the
Whimsy blog
. This will include a selection of DT work from the new release week together with a complete list of winners from the daily mini blog hops.
To be entered into today's mini blog hop prize draw, be sure to
leave a comment on ALL of the DT posts listed below by 12:00PM EST tomorrow
:
For a full reveal of this month's fabulous release, please visit the
Whimsy blog

.
The Pumpkin Trio Shapeology Die Set is available by entering the Link at the end of this post. All you need to do is:
1. Become a follower or subscribe to this blog
3. Pop up a picture of these little cuties linking back here
4 All before September 30th, the winner will be chosen then and I'll post it here so subscribing will assure you won't miss the winner!
The New Pumpkin Trio Shapeology Die
M
y project today was created with the harvest colors of the "Halloween Grunge" papers my Michelle Roos, Raindrop Echo Designs sentiment, Shapeology Dies from the "Pumpkin Trio set" and Shape EZ's NEW "Pumpy Kin" template. I wanted to create a little treat for my daughter and she loves candles! I found the container with the cute little scarecrow at JoAnn's, filled a bag with wax beads. Then I created a pocket and topped it with the pumpkin trio die some gorgeous Whimsy ribbon and the NEW Shapeology Die and Sentiment from the holiday Raindrop Echo collection. Punching out some flowers from the adorable coordinating papers and started on the card.
T
he Pumpy Kin card template opens horizontally from the right to the left with an adorable little DP insert that has slits so that some cute little tags can be tucked into them and ribbons through them too! The inside has some distress stained gauze that I've played with my new Gold metallic twinkling H20 inker on. Too fun! I hope you enjoy the thought of it all and don't forget to join in on my RELEASE CANDY below! Good luck!
INGREDIENTS:
Holiday Notables 2 Sentiment by Raindrop Echo Designs
Shapeology
Postage Stamp Die and Mini Postage, Pumpkin trio die and Snowflake Notables 2 die
Shape EZ
Pumpy Kin template
Michelle Roos Halloween Grunge DP
EK Success paper shapes punch
Kraft Paper
MEDIUMS:
Ranger Distress Ink - Vintage Photo
Stazon Saddle Brown
Twinkling H2O Radiant Rain Luminarte by Creative Imaginations (Egyption Gold) inker bottle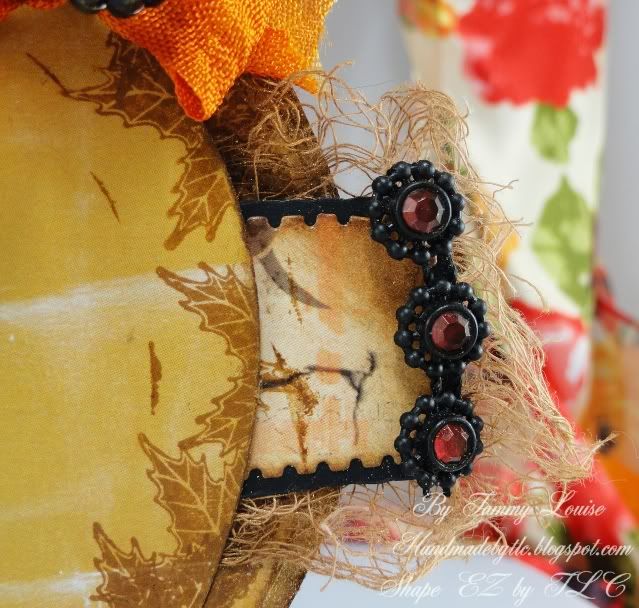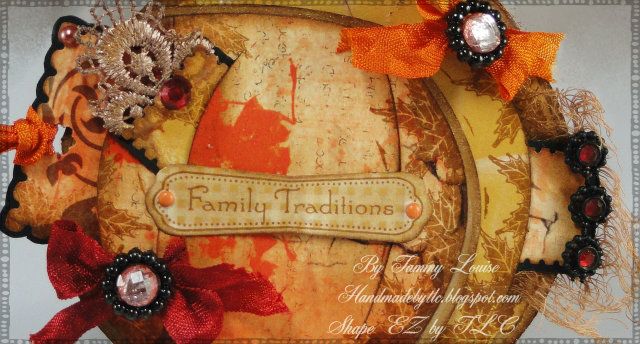 EMBELLISHMENTS:
Kaiser Scrapbook pearls
Whimsy
hand dyed ribbon
by Pink Petal Designs
Round
pearl slide
from Whimsy
Recollections brads
Recollecitons gemstones
INSPIRATIONAL THOUGHT FOR THE DAY:
Happiness does not consist in pastimes and amusements but in virtuous activities.

Aristotle
Shape EZ by TLC
If you enjoy a good 3D project or just need a special box or bag, stop by the Whimsy Stamps Store available today for my
Shape "EZ
" product line of Cut templates like bags, boxes, flowers, and cards with tons of add on's! These templates can help you make any project just the way you like it. Over and Over again! The NEW Shape "EZ" cut files are available today!
Thank you for visiting,