Good morning to all ...
S

o
. . I'm what hubby calls frugal and practical?
We
ll, I might prefer being other things in his mind . . but it could also be much worse! Hehe! I'm putting my best foot forward . . . holding my breath . . . and showing the world my happy red and orange crafty space!
I
t's only fair to prepare and share my journey here on my blog with the place every project begins :). Some recent blessings in disguise have driven us to sell our home to own a VERY tiny home (under 600 sq. ft. total). But without the 9 to 5 demand of a job, I am more able to accompany my autistic child through the grueling experience of Jr. High. So it's a
win ~ win.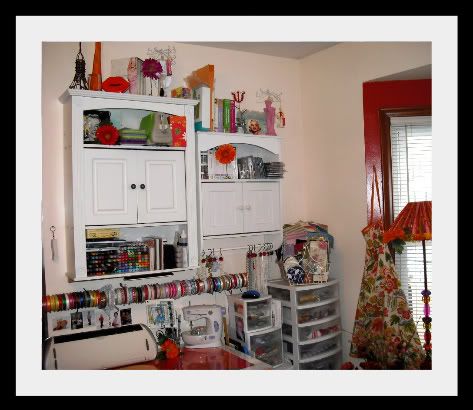 B
eing a huge
IKEA
enthusiast and making the most of my space, we sold the dining set and made sure there is room for my crafting spot in the kitchen.
(there's no smiling with out it for me)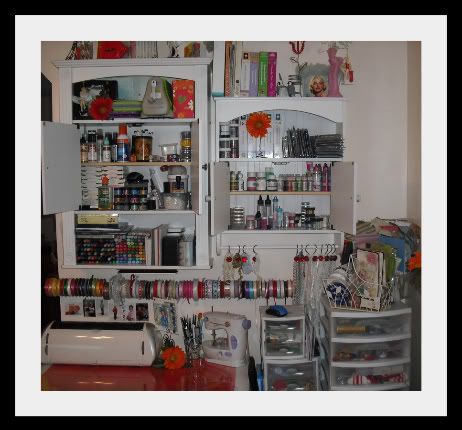 W
ith my, "save the world one item at a time"
motto, I
crafted my desk from a dismantled table, particle board from the attic, poster of beautiful tulips and plexi glass.$20 TOTAL! The ribbon holder is a tiny curtain rod .25cents at
Walmart
. The cupboards are re-painted bathroom cabinets for $5 each from garage sales and the lace holders to the right are shower curtain hooks from the dollar store. My most recent "frugal" buy is the CUTE and LITTLE sewing machine called the EZ sew, adapter or battery powered. . . with a bobbin, reverse, 3 sizes of stitch and a light by
WHITE
from
Joanne Fabrics
for $30 on sale.
INSPIRATIONAL THOUGHT FOR THE DAY:
Happy . . . comfy . . . and creative, all the ingredients of a successful craftier.
We all know when we're happy . . . we're more productive!
Keep stamping and creating! After all, it's not about how much of something you have, or how much you spend to get it. To me, it's about what I can do with what I have and being proud when I succeed with it!
Thanks for visiting, come back and see me anytime!