Hi
ya everyone!
S
o behind the scenes, I make dozens of treat boxes and or tags, totes and bookmarks you don't get to see. Usually for special occasions like Valentines Day, Halloween , showers or craft sales and today's project is one of those occasions. I was asked to make a package for the most recent craft sale that could be raffled off and I decided to make these gift packages and I put them together in a basket. I made 2 dozen of them and took a picture then when I went to get them from the camera, I couldn't locate them, so I made one today again (obviously a very simple project) and created this post.
This is the Yummy part!


Challenge entered:
Lexi's Creations ~ Sentiment Only
Paper Creations Ink ~ Halloween Inspirations
Paper Pretties ~ Halloween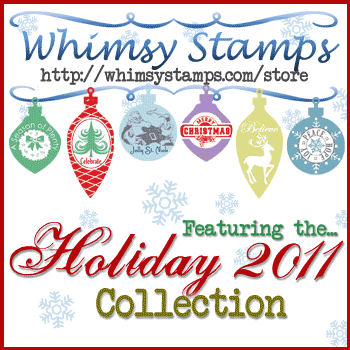 It's Day 6 of our October Rubber Die Release Showcase!

On Wednesday (12 October), Whimsy Stamps released this month's rubber designs and new shapeology dies. From then until 19 October we are showcasing these fabulous new stamps and dies with a daily mini blog hop.

Each mini blog hop has a new release prize hidden somewhere along the way and you have 24hrs to enter each prize draw.

To be entered into today's mini blog hop prize draw, be sure to leave a comment on ALL of the DT's posts listed below by 12.00 PM EST tomorrow. All winners will be announced here on the Whimsy Inspirations blog after 12.00 PM EST on 19 October.

To take a peek at today's fabulous new release creations by the Design Team, please click on the links below...


Remember that the entire new release is available to buy right now from the Whimsy Stamps store along with all your Whimsy favourites.
I
love creating with the Sentiments from Raindrop Echo w/Whimsy, they are extremely versatile and can be combined for a ton of purposes. This project, for example, is a combination of a previously released bottle cap image and die with a word extra from the new Holiday Banner Pennant sentiment set just released this month. I hope you enjoy it and it helps you keep in mind that even the littlest stamping project can have a large impact!
This is, again, how it all starts!
Bazzill Stock
DP by Paper Pizazz
Sentiment is Holiday Banner Pennant by Echo w/Whimsy
Bottle Cap Die by Echo w/Whimsy
Momento Ink
Ranger Distress Ink: Spiced Marmalade
This is the get some apple wedge parts instead of sugar!
The Paper Studios Button & bows collection Ribbon
Eyelets from stash
Frosted Lace Stickles
This is the little but large impact part!


In Case you've missed my other DT Release work this month here they are too! Enjoy:


INSPIRATIONAL THOUGHT FOR THE DAY:
Treat them to some apple snacks instead!
Thank you for visiting,